30 Products for Tech Savvy Cyclists
3 Comments
1. Speed (iPhone App)
This application measures how fast you're going by using iPhone's GPS and displays in both kilometers and miles per hour. A very handy app to replace your speedometers.
2. Cerevellum
This gadget aims to change your riding experience by allowing you to see the rear view without having to look back. Cerevellum is attached to the handle bars and has a 3.5 inch screen with 32MB of storage for workout data and four USB ports for expansion modules. With this gadget you can check the rear view by just looking down at the monitor, more convenient than having to look over the shoulder which can cause you to loose your balance.
3. Pedalite 360 Degree Visibility Pedal Lights
If you love night cycling, check out Pedalite 360 Degree Visibility Pedal Lights. These pedal lights ensure your visibility to motorists avoiding accidents. What's great about this product compared to other pedal lights is that the lights are visible at any angle and are powered by kinetic energy therefore no need for any battery. The lights continue to flash during stops or when freewheeling.
4. LightLane
Wanting to increase the safety of cyclists, LightLane has developed a gadget that emits high visibility lasers on the road as if having to ride on a bike lane. Lightlane is a concept originally created for a design contest to promote commuting by bicycle and has received overwhelming response. Prototypes have already been released and it will not be long before LightLane is released to the market.
5. BrakeLights (iPhone App)
This application turns your iPhone into instant headlights. By strapping your iPhone on your backpack, it automatically displays a red light when you are slowing down as triggered by the accelerometer.
6. Fezzari Deluxe 9-Piece Compact Toolset
Technical problems during rides are unavoidable. But what's worse is not having the right tools to address these problems. The Fezzari Deluxe 9-Piece Compact Toolset includes 7 different metric Allen wrenches and a Philips and Regular head all the standard tools you'll need to fix and adjust your bike. This toolset comes in a light compact design making it convenient to carry anywhere.
7. iPhone ARider
Ideal for cyclists who need hands free navigation, the iPhone ARider has a retractable helmet-mounted display that pulls data from an iPhone 3GS. Although not designed to be use during the actual ride, it is more convenient than checking your iPhone from your pocket.
8 Sony Walkman NWZ-W202 Cordless MP3 Headset
As light as 35g, this compact wireless media player is perfect for cyclists who love to listen to music during rides. The Sony Walkman NWZ-W202 has 2gb of memory and features the newly developed ZAPPIN navigation to scan songs. Supports MP3/AAC/WMA (DRM)/L-PCM and WMT music formats.
9. Spooklight
A gadget that allows cyclist to make their intentions clear of turning left or right, Spooklight consists of a wireless handlebar touchpad and LED attached to the back of your bike which will light up depending on which way you are about to turn. Spooklight also has brake lights that are automatically activated, just like in a car.
10. BioLogic FreeCharge
To be released in March 2010, Dahon has created BioLogic FreeCharge which allows you to charge your cellphone and other gadgets by converting the energy produced by pedaling into useful electricity. This device is made up of a battery and circuitry to both store electricity and to smooth the inevitable bumps and spikes in the generators output .
11. Cyclemeter (iPhone App)
One of the most useful iPhone application for cyclists, Cyclemeter continually records time, location, distance, elevation, and pace for rides up to six hours on an iPhone 3G, or nine hours on a iPhone 3GS. This application also allows you to check results on maps, graphs, and calendars and calculate the distance you've ridden by day, week, month, and year.
12. Alenax Bikes
Breaking out of the conventional pedaling motion, Alenax has released its latest innovation that allows cyclists six different ways to pedal their bikes: Conventional or 360 degree motion, simultaneous both feet rotate 360 in circular motion, simultaneous both feet go up and down, natural walking and jogging motion, bilateral exercise one side rests and the other pedals up and down, and bilateral exercise one side rests and the other side pedals 360 in circular motion. Not only does it give additional cycling enjoyment, it also benefits people with limited abilities or require rehabilitation of certain joints and muscles.
13. Airless Tires Technology
Hutchinson Tires' SERENITY airless tire concept has been in research for many years. Hutchinson's collaboration with Biron Engineering has made this concept possible and will surely revolutionize the world of biking. The technology is composed of light & strong composite structure, covered by a unique long wearing and grippy rubber tread and being airless means no more flats or punctures, tube and tire repair or air pressure maintenance. It will be released to the market by the end of 2010.
14. Quick Detach Pedal Axle System
Although not new to biking technology, quick detach pedals still face the problem of becoming loose while cycling. As remedy, VP Components came up with Quick Detach Pedal Axle System which allows easy release of pedals by the use of two fingers, but during cycling, the pedals are guaranteed to be secure and not becoming loose while on the track.
15. Fezzari 2-Way CO2 Aireport Pump
Built with a light compact design for portability, the 2-Way CO2 Aireport Pump can pump up 2 road bike tires with one CO2 cartridge or 1 mountain bike tire. And unlike other CO2 pumps, it has an on/off faucet type valve which allows you to control the pressure and amount of inflation.
16. E-WERK
Just like BioLogic FreeCharge, E-WERK aims to give cyclists a means to recycle energy and transform it into electric energy. This new gadget from Bush and Mueller uses a bicycle's built in hub dynamo to produce high energy output for devices. The E-WERK also comes with a set of fittings, plugs and cables allowing it to charge a variety of devices providing power up to 16W.
17. Garmin Edge 500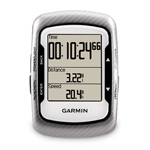 Recently introduced by Garmin International Inc, Edge 500 boasts its mere 2 ounce of weight and aerodynamic design. It has a high-sensitivity GPS receiver, requires no calibration, can be switched quickly and easily between bicycles and connects wirelessly with ANT+ compatible third-party power meters. Edge 500 is capable of measuring speed, distance, time, GPS position, elevation, calories burned, climb and descent with the use of barometric altimeter to pinpoint changes in elevation.
18. Quarq CinQo Power Meter
Designed to measure speed, distance, altitude, heart rate, and almost any stat the cyclists need, The CinQo Power Meter is a bicycle powermeter that is integrated into the crankset of the bicycle. The ANT+ radio transmits the CinQo's power measurement digitally to other ANT+ compatible bicycle computers (Garmin Edge 705, iBike iAero, etc.).
19. Dakota 20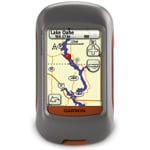 Dakota 20 from Garmin Ltd. is a touchscreen GPS device makes outdoor navigation effortless. This palm-sized gadget features a 2.6 inch color touchscreen display and comes with built-in worldwide basemap which can be expanded through Garmin's wide array of detailed topographic, marine and road maps on micro SD card. Dakota 20 allows cyclists to share waypoints, tracks, routes and geocaches wirelessly with other compatible Dakota, Foretrex, Oregon and Colorado user.
20. Blackeye Camera
Its versatile design makes it possible for Blackeye Camera to be mounted differently depending on your preference. It can be attached on the helmet, head, and even directly to sports equipment. Powered by 8 AA batteries, the camera can record up to 8 hours and has 3 standard RCA plugs allowing you to connect to your recorder to deliver perfect video and audio feed.
21. Shimano Dura-Ace Di2

With Shimano Electronic Intelligent System (SEIS) feature available, the Dura-Ace Di2 truly tops the line of Shimano's electronic shifting component group. So much so that many pros have shifted into using the Dura-Ace Di2.
22. OnGuard Akita Combo Wire Bike Lock 12mm
12mm thick of extra flexible braided steel cable to ensure that your bike is safe from being stolen. It has an M-Cylinder inner locking mechanism that makes it pick proof and its 6 ft length allows you to wrap both wheels and the frame.
23. Ecco GPS Locator
Working rather as a GPS back tracking device, the Ecco GPS Locator marks your location and then allowing you to go back to the place where you first marked it, making it very useful on outdoor trips at unfamiliar places. This GPS device is capable of storing 3 locations. Its capable of tracking 32 satellites simultaneously, fixing your location in 60 seconds.
24. Suunto T6
Measure the effectiveness of your training with Suunto T6. This heart rate monitor features a time mode (time, date and alarm), an Alti/Baro mode (altitude and weather data), training mode (stopwatch functions, heart rate data), and a speed and distance mode, and is compatible Compatible with following wireless Peripheral Observation Devices (PODs).
25. Kryptonite Evolution Mini
If you're looking to safeguard your most priced bike but wouldn't want to carry around a very large lock to protect it, then Kryptonite's Evolution Mini might be the one you need. Kryptonite is confident about its product that offers a $2000 warranty and anti-theft protection to its customers.
Both a tire and shock pump, save time and money with Fezzari Aireport 2-in-1 Tire & Shock Pump. It claims to have the highest PSI in its class and can pump road and mountain bike tires and even mountain bike air shocks which would normally require higher pressure.
27. Cat Eye Micro Wireless Computer

The Cat Eye Micro Wireless Computer mounts to any bike, tracking speed, distance, and other functions making it a great addition to your bike.
28. Lavod MP3

Many cyclists prefer to ride while listening to their favorite tracks, but the downside with headsets is they tend to impair cyclists to outside noise making them considerable safety hazards. Lavod mp3 plays on a speaker that delivers clear audio dismissing the need for headsets. It also has a built in flashlight that comes in handy when you need a source of illumination.
29. Speed Vest
Currently not available to the market, Speed Vest offers a new way of monitoring a cyclist's speed by having the figures illuminated at the back of the cyclist. Speed Vest also serves as additional safety precaution giving cyclists clear visibility especially in dark roads.
30. Gravity Dropper Turbo Remote Seat Post
An adjustable seat post that's operated from the handle bars, the Gravity Dropper Turbo Remote Seat Post mounts firmly in place and while allowing riders to quickly and easily adjust the height of their seat. Available in 2, 3, or 4 inch drop to fit everyone's riding style.